https://www.youtube.com/watch?v=Xg1WiSMrZU0&feature=youtu.be
Interactive Floor Solutions
Content that moves is great, but content that moves in reaction to your audience is even better. Our LED floor panels are equipped with thousands of interactive touch sensors, and when combined with an interactive media server, your steps will turn into magic.
Specialty-Trained LED Technicians
Setting up an LED floor – especially and interactive one – is a longer story than just "plug & play". This is why our LED Technicians go through comprehensive and specialized training to get certified to work on site with LED floors.
This training, combined with their active involvement in pre-production projects, means that our LED Technicians are experts at setting up an LED floor and integrating it with the rest of the production.
If the world is at your feet, why not take a look?
An LED floor is and will remain the kind of showpiece production event companies fall in love with over and over again. Not only is walking on a live floor something memorable, but walking on a floor that remembers your movements and acts accordingly is simply incredible!
This high-end floor panel brings creativity to the greatest concerts, TV studios, & trade shows.
Dimensions (WxHxD): 609.6mm x 609.6mm x 138mm
PRODUCT SPECIFICATIONS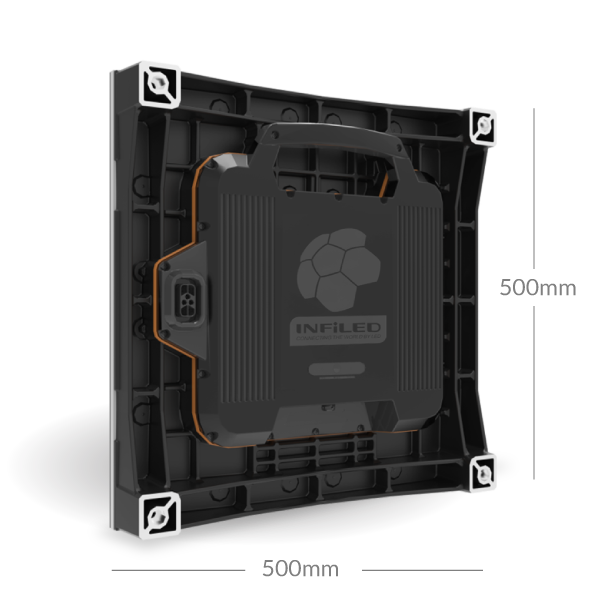 Interactive LED Floor Solution
State of the art LED floor solution with full interactive capability. High resolution for seamless integration & unique experience
Dimensions (WxHxD): 500mm x 500mm x 85mm
PRODUCT SPECIFICATIONS
The right solution to take your corporate event to the next level. Incorporate an LED flooring solution and take your event to next level.
Dimensions (WxHxD): 500mm x 500mm x 85mm
PRODUCT SPECIFICATIONS
Two Pixel Pitch for greater creativity
No two show is ever the same, and a single pixel pitch was never going to be enough for our clients. Our 5.9mm & 7.8mm floor panel options allow you to always use the right pitch for your audience, and make sure that the entire set – including the floor – flows seamlessly together.
The 7.8mm is perfect if you do not plan on having your audience stand on the floor, and is the best solution for award shows, and corporate events where being eye-candy and memorable is a must. Its larger pixel pitch lets you use a hugely powerful LED floor and allows your content to be clear and visible from further away.
On the other end, the 5.8mm floor panel has incredible properties at close range, and is a must for dance floors, pathways, or any other audience focused production. The small pixel pitch allows for a unique blend of brightness and incredible details that will make your audience lose their sense of touch and feel like they have stepped into the 22nd Century.
Matrix Visual Solutions + BrightLogic = Magic
To accomplish incredible work with LED floors, it is essential to partner up with experts who know how to make a client's wish come true. BrightLogic has been a preferred partner for a long time, and their latest control system solution is the missing link between a great LED floor and a fully interactive & memorable experience.
Use the power of modern LED technology to help you with your event production needs. Contact Matrix Visual today!
Quote Your Project
Technology moves at such a speed that we periodically cycle our inventory to keep our LED state of the art.
Our Inventory
LED panels are designed to turn an LED display into a problem solver, not a problem maker.
Our Solutions
Our multiple offices allow us to drive down shipping cost and open our inventory to the largest hubs in the country.
Our Presence